SEnDIng Certificates
The participants in the pilot Data Science and IoT training have been awarded two different certificates. The certificate of achievement was awarded to those participants that successfully completed (i.e., achieved a score of 70% or more at all self-assessment quizzes of the programme modules) the Data Science and/or IoT online courses at the SEnDIng MOOC.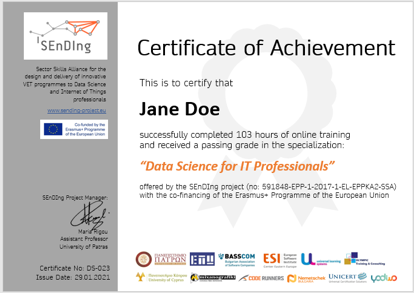 Τhe formal SEnDIng certificate was awarded to those that succeed at the certification exams which took place at the end of the training for the trainees who successfully completed:
the 103 hours Data Science or 103 hours IoT online courses at MOOC
the 20 hours of online transversal skills training
the 320 hours of work-based learning in their typical work environment, working on Data Science and IoT projects.